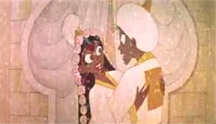 'The Thief and the Cobbler' is an animated feature film by three-time Academy Award winning director Richard Williams who was the animation director for 'Who Framed Roger Rabbit.'

This film was made over a 25-year period and was never released in the form intended by its maker. This version has been restored by fans and posted on the YouTube service in 16 parts. It incorporates some of the original scene sketches in place of missing parts, but the majority of the film is here and it's just fantastic.

It is obvious in the first five minutes that this thing is one of the great animated films. It far surpasses Disney's 'Aladdin' which obviously owes a lot to this film. As soon as the film begins, you know you are in the hands of an absolute master of the medium. It's not often that Candlelight Stories gets to recommend something this great so enjoy it while it's available.

You can watch the entire movie on YouTube by clicking here.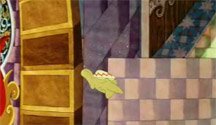 By the way, I originally found this via Xeni's post on BoingBoing.net.