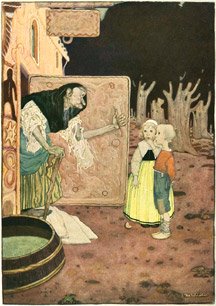 The ASIFA-Hollywood Animation Archive has posted illustrations from a 1923 book of Grimms' Tales by Gustaf Tenggren.
You can see them here
.
I do believe the one to left here is from Hansel and Gretel. Look at those big wondering eyes on the children. And I think Gretel has just dropped the piece of the gingerbread that she was eating. It's never a good thing to be caught eating someone's house.